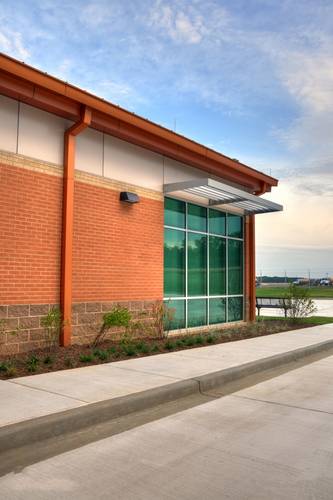 The West Side: Corporate Aviation Development was completed in July 2011 and has been awarded the highest level of LEED certification — platinum. The development was built with environmental sustainability, occupant health, comfort and cost savings in mind. Some of the eco-friendly features and their corresponding benefits include:
Building Materials - minimum of 26% recycled content

Ceilings and Millwork - bamboo (rapidly renewable resource)

Counters - 80% recycled content

Construction Waste - 95% recycled

Flooring - recycled carpet and tile

HVAC - high efficiency units

Low Flow Fixtures - water savings

Energy cost savings - 52% of standard code

Recycling Bins

Green Cleaning Products

Green Pesticide Products

Bike Racks and Bicycles

Shuttle Service

Day Lighting
The aircraft hangar co-located on the West Side Aviation Campus was also certified by the U.S. Green Building Council as a LEED gold facility. The hangar also contains numerous sustainable features, including:
All steel beams in the structure and the sheeting contain recycled materials

95% of all construction waste was recycled

Contains a high energy efficiency infrared system

Unique day lighting structure with windows in the hangar facility
The Chattanooga Airport's efforts to promote sustainability have real, tangible benefits for our local community. But we also hope our LEED design efforts will set the example for other airports, private businesses and individuals to follow.
Educational Tours
CMAA is proud of our story of sustainability and we hope that by sharing our path to energy independence, we will educate and inspire others to begin their own green story. As such, the CMAA conducts tours of the LEED platinum certified West Side Corporate Aviation Campus for schools and other civic groups. The tour covers details on the LEED certified development, the solar farm installation and the airport's other ongoing green initiatives.

Tours are scheduled by contacting the Chattanooga Airport Authority, and can be scheduled Monday through Friday between 8:00 a.m. and 4:30 p.m. Special times may be scheduled on request. For more information call the Airport Authority office at (423) 855-2200.
CMAA also offers tours of the general aviation facilities. To book a tour for your school or community group, please complete the Tour Policy form below and submit it by fax to 423-855-2212, Attention Facility Tours.
Download: Chattanooga Metropolitan Airport Tour Policy